Plank, Herringbone, Chevron and more...
Collections
At WFA we pride ourselves on having a diverse and extensive range of stock that make up our Collections. This ensures that we can provide you with exactly what you and your customers are looking for, supplied to you either in-house pre-finished or unfinished. When purchasing, we understand that tastes and styles vary massively, as do budgets and deadlines – so we'll listen to your requirements and do everything we can to help.
Our team has considerable experience, we make it our business to keep up to date with the latest trends and developments in the flooring industry so we are able to pass that knowledge on to you, advising on anything to do with wood flooring and accessories – including product quality, construction, lifespan, popular designs and styles, the care and maintenance aspects of keeping your floor in its best condition possible - we are here to help.
We'll help you impress your customers & enhance your industry reputation.
From Solid to Engineered Wood to mosaic patterns or a high gloss finish, WFA can source anything you need ... even the most obscure or unusual wood species. We'll scour the globe to find the most innovative & stylish flooring and are always building excellent relationships with the world's premier wood suppliers.
If you'd like advice on the latest trends and innovation in wood flooring then please contact us. We can also advise on and supply the best products and accessories to install and how to maintain all types of wood floors to keep them looking beautiful.
Photograph of the Mansion Weave above is courtesy of NW3 Interiors Ltd.
Pre-finished
Our pre-finished collections comprises of a number of different ranges which offer a diverse choice of wood flooring.
From our authentic aged Time Worn herringbone to the contemporary Tate collection...
---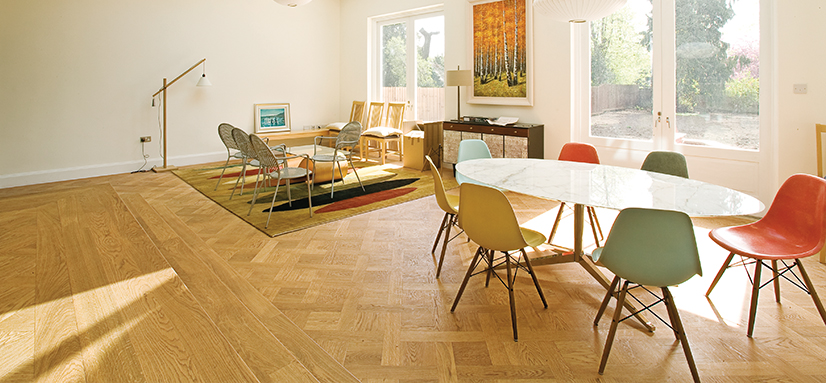 Unfinished
Stability is our Collection of FSC-certified European Oak produced in engineered planks, herringbone, chevron, designs and panels. All available in various, sizes, grades, profiles and thickness. Unfinished ready for on-site oiling or lacquering. The combination of the Oak top layer with quality Birch plywood ensures all our engineered products are compatible with under floor heating.
Other species within our engineered selection include Douglas Fir, American Black Walnut and Wenge.
Alternatively, we have an extensive range of traditional solid parquet in herringbone, strip and panels, plus solid blocks, mosaics and end grain in varying thicknesses.
---
Clearance
From time to time, for unforeseen circumstances, we have customers cancel orders or wish to change their floors. This is our current selection we have in stock and available at reduced prices to make some space in the warehouse!
All these floors can be produced to order should more be needed, or the decision to add another room at a later date is made.
Ask us about our clearance items as some are not available as certified products, all options are sold subject to availability.
Quantity: 9.5m2
Finish: Unfinished
SPEC/WFA0024


View Details

9.5m2
Merbau
Battens
Square Edge
300 x 60 x 9mm
Finish: Unfinished
SPEC/WFA0024






Quantity: 22.116m2
Finish: BF 419 UVM
SPEC/WFA0039


View Details

22.116m2
Stability 20
European Oak Prime FSC-certified
180 x 20mm Planks
2 Sided Bevel
Finish: BF 419 UVM
SPEC/WFA0039






Quantity: 30.109m2
Finish: BF 2458 UVS
SPEC/WFA0046


View Details

30.109m2
Stability 20
European Oak Prime FSC-certified
Continuous Versaille
4 Sided Bevel
Finish: BF 2458 UVS
SPEC/WFA0046




Quantity: 15.798m2
Finish: BF 521 UVS
SPEC/WFA0052


View Details

15.798m2
Stability 15
European Oak Rustic FSC-certified
Aged and Distressed
2 Sided Bevel Plank
220 x 15mm
Finish: BF 521 UVS
SPEC/WFA0052






Quantity: 43.467m2
Finish: BF 2567 UVM
SPEC/WFA0058


View Details

43.467m2
Stability 15
European Oak Prime FSC-certified
2 Sided Bevel
180 x 15mm Planks
Finish: BF 2567 UVM
SPEC/WFA0058





Quantity: 21.560m2
Finish: Unfinished
SPEC/WFA0065


View Details

21.560m2
European Oak Rustic FSC-certified
Parquet Battens
280 x 70 x 10mm
Finish: Unfinished
NOTE: BURN MARKS, THEY NEED SANDING
SOLD AS SEEN
SPEC/WFA0065





Quantity: 7.171m2
Finish: Unfinished
SPEC/WFA0067


View Details

7.171m2
Wenge
Square Edge Strip
90 x 9mm Random Lengths
Finish: Unfinished
SPEC/WFA0067




Quantity: 7.084m2
Finish: Unfinished
SPEC/WFA0068


View Details

7.084m2
European 100% Fumed Oak Prime FSC-certified
4 Sided Bevel
Chevrons Angle 30°
500 x 100mm
Finish: Unfinished
SPEC/WFA0068




Quantity: 30m2
Finish: BF 3295 UVS
SPEC/WFA0070


View Details

30m2
Stability 15
European Oak Rustic FSC-certified
2 Sided Bevel
180 x 15mm Planks
Finish: BF 3295 UVS
SPEC/WFA0070




Quantity: 49m2
Finish: Unfinished
SPEC/WFA0073


View Details

49m2
European Oak Rustic FSC-certified
Parquet Battens
350 x 70 x 10mm
Finish: Unfinished
SPEC/WFA0073