reclaimed oak
WFA is proud to announce the launch of a product as yet not widely available in the UK... GENUINE RECLAIMED OAK. This characterful wood is produced from 60-100 year old beams reclaimed from old buildings in France and Germany.
With open splits, knots, holes and deadworm holes that are filled with black filler, and the surface heavy brushed to leave some of the filler lower to emphasise the appearance of these features, you couldn't get further away from the natural beauty of a prime wood choice.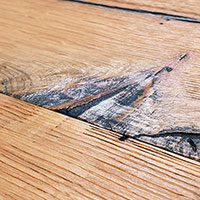 Irregular Edges
Bandsawn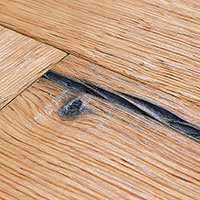 Partially Filled Cracks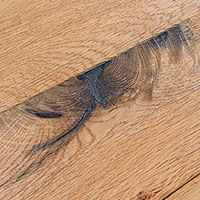 Partially Filled Knots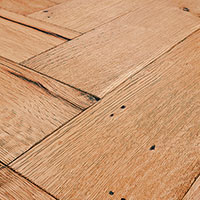 Woodworm & Sapwood
Original bandsawn and planer marks plus irregular edges may also be visible and add to the characteristics of a reclaimed floor. FSC Certified European Oak, all 20.5/5.5mm in four finishes available in plank, herringbone and chevron.
Give us a call on +44 208 501 6730 or email us at info@wfa.uk.net and we'll send you through some samples.