Working Together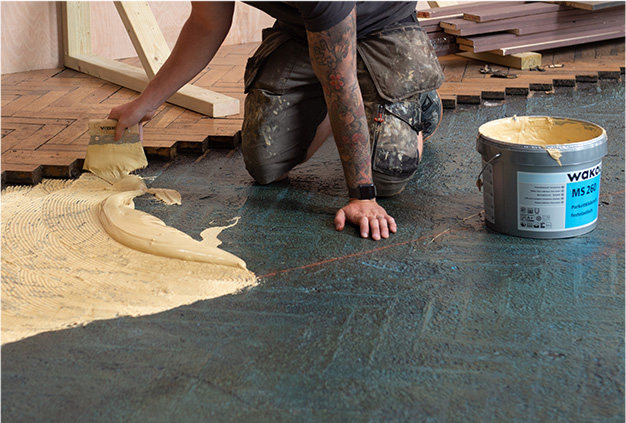 Contractors
Flooring contractors have been the foundation of our business since our inception over 20 years ago and still are today. The service we offer flooring contractors enables them to operate their business knowing all of their flooring needs can be met by WFA, and without the need to use multiple suppliers for each installation. From floor prep, installation and finishing, to maintenance and aftercare, we have all the products and experience to ensure each project runs as smoothly as possible.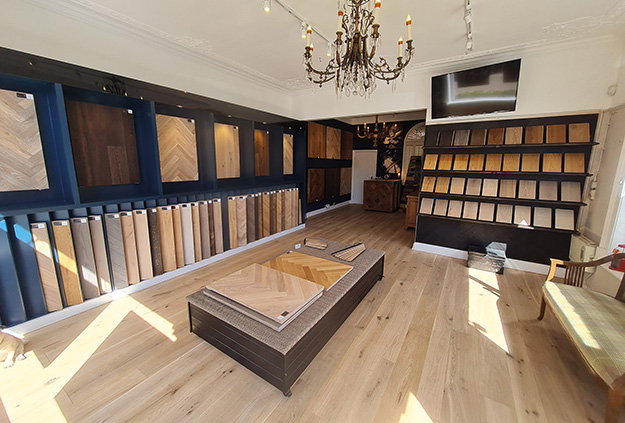 Retailers
Our growing retail network now includes retailers in America, Ireland, France, Switzerland, Gibraltar and of course all over the UK. We offer a completely bespoke sampling service allowing each retailer to curate their own range of flooring and present it in a fashion that suites their showroom. Most importantly of all, the selected range can be branded under their own name, allowing our clients to control their own margin. All showroom sample panels are produced in the WFA workshop at our HQ, call us today for more details 020 8501 6730.
Architect & Designers
With over 65% of the floors we produce being 'one off's' it's no surprise that architects and designers come to WFA for inspiration. We have created over 3500 different floors over the years and produce on average 7 new colours per week! We are available from the very start of a project and can offer several different options, including plank, patterned floors and parquet panels, all tailored to the specific project. We can also assist with the specification of other bespoke timber elements like staircases and hardwood mouldings all coloured to harmonise with the chosen floor.
WFA is a thriving and proud business that counts customers as friends and considers its own team to be like family.



We focus on hiring the best, looking after our people and maintaining high standards in every area.
Our Ethos
WFA is a leading supplier of quality wood flooring to the TRADE. But it's so much more than just that...
We help create stunning spaces, with beautiful wood flooring, and sourcing excellent quality wood is the very essence of the company – and it's WFA's reputation of supplying the best that has secured its market leading position.
Established in 1999, the WFA team set upon a mission – to exceed clients' expectations in all aspects. That ethos continues today as the business prospers and also looks to expand; increasing capacity of its bespoke pre-finishing department and exploring export opportunities with retail and contractor partners in the United States, Europe and elsewhere.
WFA stands for fine flooring, exceptional quality and excellent customer service and our story is dotted with proud achievements. Priding ourselves on offering a bespoke service - with endless options and combinations of sizes, textures, colours and finishes.
If you don't see what you like across the site, please ask and our team will endeavor to find you exactly what you're after.
The first time we visited our new HQ in Romford, I remember thinking it was absolutely huge but we knew with the vision and

potential of our business

that it was perfect – RICHARD COLETTA, MANAGING DIRECTOR
Don't just take our
word for it...
As an independent company, we are versatile and efficient and we pride ourselves on listening to our customers and going the extra mile to meet all of their requirements – no matter how big or small the company, contractor or project.
We are 100% committed to providing a comprehensive and quality service. Our entire team has considerable experience, we know what we're talking about and we genuinely want to help you and your business thrive and prosper. We can supply specialist pre-finished wood flooring that's unbranded so you promote as your own brand.
We have a long list of loyal customers,
here is what some of them have to say...

WFA have been working with Planet Flooring for over 13 years, to watch Jason's testimonial click on this link.
Choosing a Timber sourced from managed forests in Europe, Asia or America, your selection process is made simple with the assistance of Richard and his Team of Timber Experts.

Specialising in bespoke specification, WFA have knowledgeable, experienced, dedicated craftspeople, able to both hand finish and machine finish timber with fuming, oils, stains, hard wax and lacquers, achieving almost infinite options of colour and texture.

All works are carried out in their purpose built facilities located in Romford, Essex in the UK.

Textured Finishes hand brushed or machine distressed are regular processes carried out at WFA for that 'extra special finish'

Having completed major projects such as Tate Modern Gallery and smaller 'bespoke' projects such as West Ham Football Club new stadium we are happy to have WFA within our supply chain offering us excellent service, lead in times and exceptional quality services.

– Bev McFarlane - Loughton Contracts
WFA provide an amazing service, that is second to none. They hold an excellent range of stock from screws and nails to the best quality parquet flooring adhesives filler.
Keep up the good work.

– Leslie Kirkham - KJK Flooring
Wood Floors & Accessories offer a great range of flooring products at competitive prices but it's not always just about the price. We don't buy from companies based on how cheap we can get it, the quality of the product and the service supplied is much more important. Wood Floors & Accessories are outstanding on product, service and price. Why would we go anywhere else!?

– Guy Gibbon - Sisal & Seagrass Ltd & Robert Clements Ltd
I have been a customer with WFA for over 10 years now. The service has always been first class. Probably the most reliable delivery service I have used. All members of staff from sales through to delivery are friendly, helpful, considerate and a pleasure to deal with. They offer a good selection of competitively priced products plus the technical knowledge to back it up and have always been very willing to help with any product or tool enquiries I have made. All in all they are an important part of helping keep my business running smoothly!

– Matthew Knight - Knights Wood Floors
Our preferred supplier of high end quality timber. We have worked with WFA for many years now. Great service, reliability and professionalism.

– John Kent - Abbeywood Floor Coverings
Wood Floors and Accessories stock a large range of unfinished floors including unfinished engineered boards. Stock a full range of 10mm flooring, appropriate adhesives and equipment and have an extensive knowledge of this superior method of floor fitting.

Provide a reliable and reasonably priced bespoke service including very wide, very long planks, ornate parquetry and unusual timbers.

– Paul Webb - A & P Webb Flooring.
Wood Floors and Accessories are a 1st class supplier based in the South East. They provide an excellent service, and as a result, I have been a client for over 10 years. I have always found the staff very friendly and polite and I would recommend WFA because of their efficiency, helpfulness and experience.

The products they offer are of a high standard at competitive prices. If you require anything out of the ordinary WFA are the answer.

– Neil Croucher - NCI Flooring Contractors Ltd.
WFA have been one of our suppliers for well over 10 years. They offer a service you can depend on with the quality to back it up. It is a relief to have a supplier that is getting things right! We look forward to working with Richard and Ricky & the team for the next ten years.

– Mulberry flooring.
WFA are great! Need I say any more?

An amazing service and quality finish consistently provided, it is always a pleasure to work with the WFA team.

– Sam Wilson - Art of Flooring
Sustainability
Look for our floors that are available with PEFC or FSC Chain of Custody certification, to ensure that they have been checked at every stage of processing "from the forest to the shelf". We also undergo regular and rigorous testing to meet the high standards of both of these internationally respected organisations.
The Forest Stewardship Council® or (FSC) is an international organisation that is dedicated to promoting the responsible management of forests worldwide - their local communities and wildlife - to provide "Forests For All Forever". It is recognised by BREEAM and the by the UK Government Timber Procurement Policy, as well as being the only forest certification scheme that is endorsed by Greenpeace and the World Wildlife Fund.
The Programme for the Endorsement of Forest Certification (PEFC) is an international, non-profit, non-governmental organisation which promotes sustainable forest management through independent third party certification. It ensures that the wood products originating from each national scheme meet equivalent standards and can therefore be traded internationally.
The Woodland Trust is a name synonymous with the fight against climate change. They are the proud caretakers of more than 1,000 woods across the UK, from Lands End to John O'Groats. WFA are just as proud to help support them in all that they do with our contributions that help towards the protection of trees and woodlands.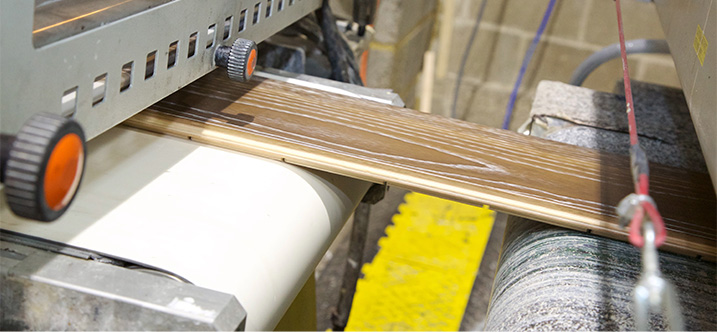 The Made in Britain marque is accredited to businesses selling goods that have been manufactured or have undergone a final substantial change in Britain before their sale.
Made in Britain is a fast-growing community of like-minded manufacturers from all around the UK. By being a member and applying the Made in Britain collective mark to our floors it is made really clear to you, our customer, that we're producing the end product right here in Britain and to the very highest standards.