wakol
Wakol are market leaders in the supply of adhesive and floor preparation products. Using high quality glues when adhering your parquet, herringbone blocks or planks to any subfloor will absolutely reduce shrinkage and any expanded movement within the flooring. Thus contributing to the longevity of the floor and limiting the develpoment of gaps or seams plus helping against the noise of footfall, especially if also laying the sound reduction TS103 underlay.
Wood Floors and Accessories stock the best solutions for your needs.

Wakol Adhesives
---
Wakol Levelling, Primer's and DPM's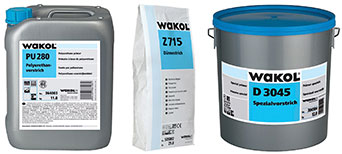 ---
Wakol Underlay
3mm TS103 Sound Reduction Roll

3mm Wakol TS103 Sound Reduction Underlay 35m Roll

Cork/polyurethane foam matting for improving the footfall sound and heat insulation of floor covering constructions in old and new buildings.

Suitable as a soundproofing plate underneath: strip parquet, multi-layer parquet, solid wood planks.

As well as PVC and CV flooring, textile flooring, linoleum flooring and rubber floor coverings.

35m x 1m x 3mm

Call to order on 020 8501 6730
sales 020 8501 6730
Delivering 6 days a week
subject to delivery terms
Order before 3pm for next day delivery.